Caring for Children
"Our mission is to create an environment where children enjoy learning," says Cecil Hodge, Educational Director for our Child Care Center in the Tremont section of the Bronx. "We want children to become life-long learners, and our mission is to cultivate excitement in the learning process to prepare children for the future." The Salvation Army operates 6 childcare centers in Brooklyn, the Bronx, and Queens. We offer free childcare to families, providing a tailored program that can help develop children between the ages of 2 and 5.
We strive to create an environment where children can learn how to become critical thinkers and are given opportunities to participate in fine arts, educational exercises, and field trips. The purpose of these activities is to teach colors, shapes, letters, numbers, and to gain new and exciting hands-on learning experiences. Children are encouraged to explore the world around them to develop their independence and expand their imagination.
"A lot of the teachers are from within the same community as our students," continues Hodge. "We have a lot of veteran teachers that have been in the field for a very long time who have a passion for educating children."
The Salvation Army, the leading provider of social services in the United States, offers a unique opportunity for families to also benefit from our network of food pantries, soup kitchens, after school programs, senior programs, and holiday assistance programs.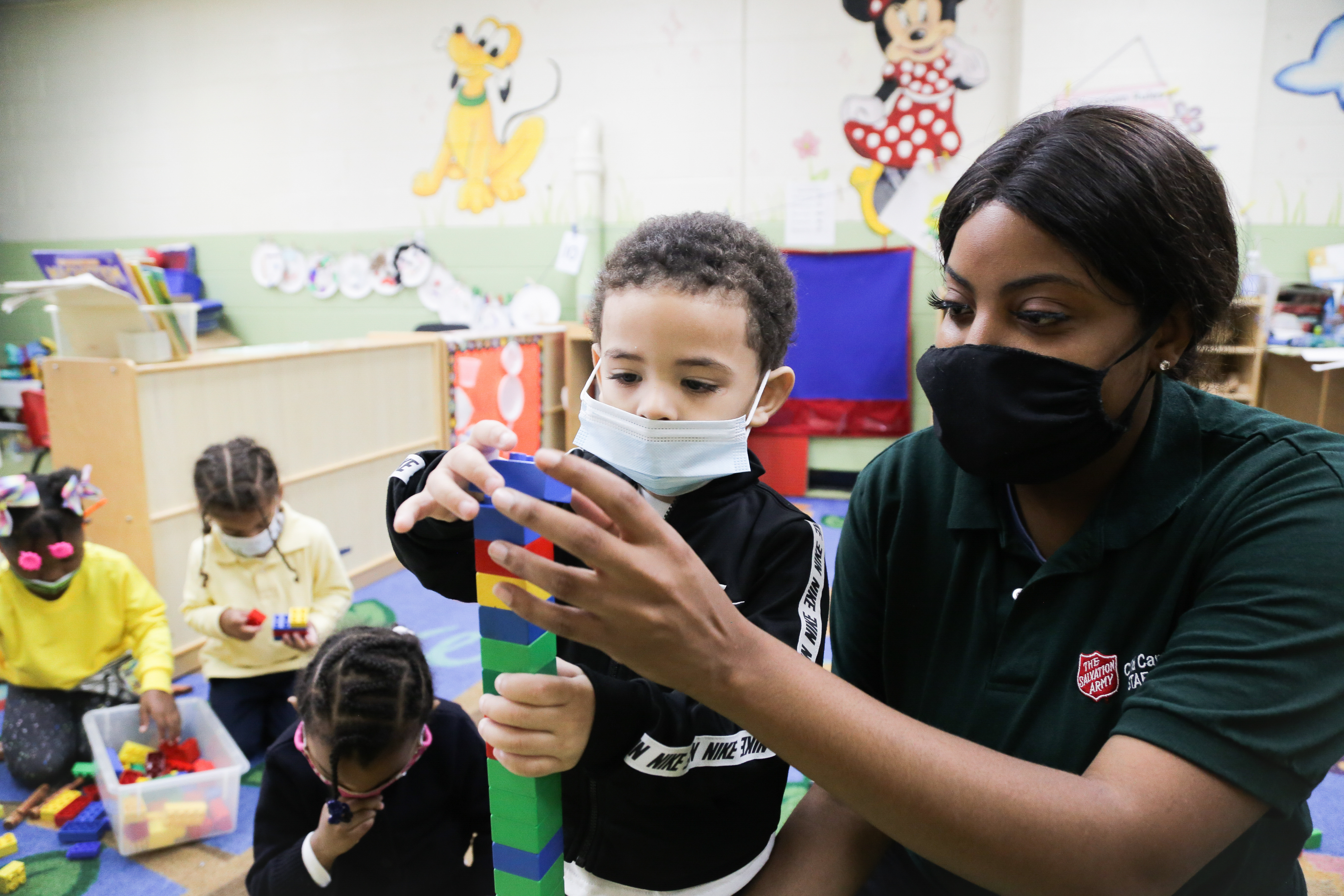 For more information about our child care centers and to enroll your child, please call one of the centers closest to you:
Bedford Child Care Center
110 Kosciuszko Street
Brooklyn, NY 11216
718-552-2691
Bushwick Child Care Center
151 Bushwick Ave
Brooklyn, NY 11221
718-455-0100
Tremont Child Care Center
2121 Washington Ave
Bronx, NY 10457
718-563-1530
Brownsville Child Care Center
280 Riverdale Ave
Brooklyn, NY 11212
718-345-2488
Bronx Citadel Child Care Center
425 East 159 Street
Bronx, NY 10451
718-742-2346
Ridgewood Child Care Center
69-23 Cypress Hills Street
Flushing, NY 11385
718-497-4356
The Salvation Army Child Care Programs are licensed by the NYC Department Of Health and Mental Hygiene. All of our Centers adhere to CDC guidelines regarding COVID-19 to ensure a safe learning environment for all children and staff.